Published on
Wed Apr 01 2020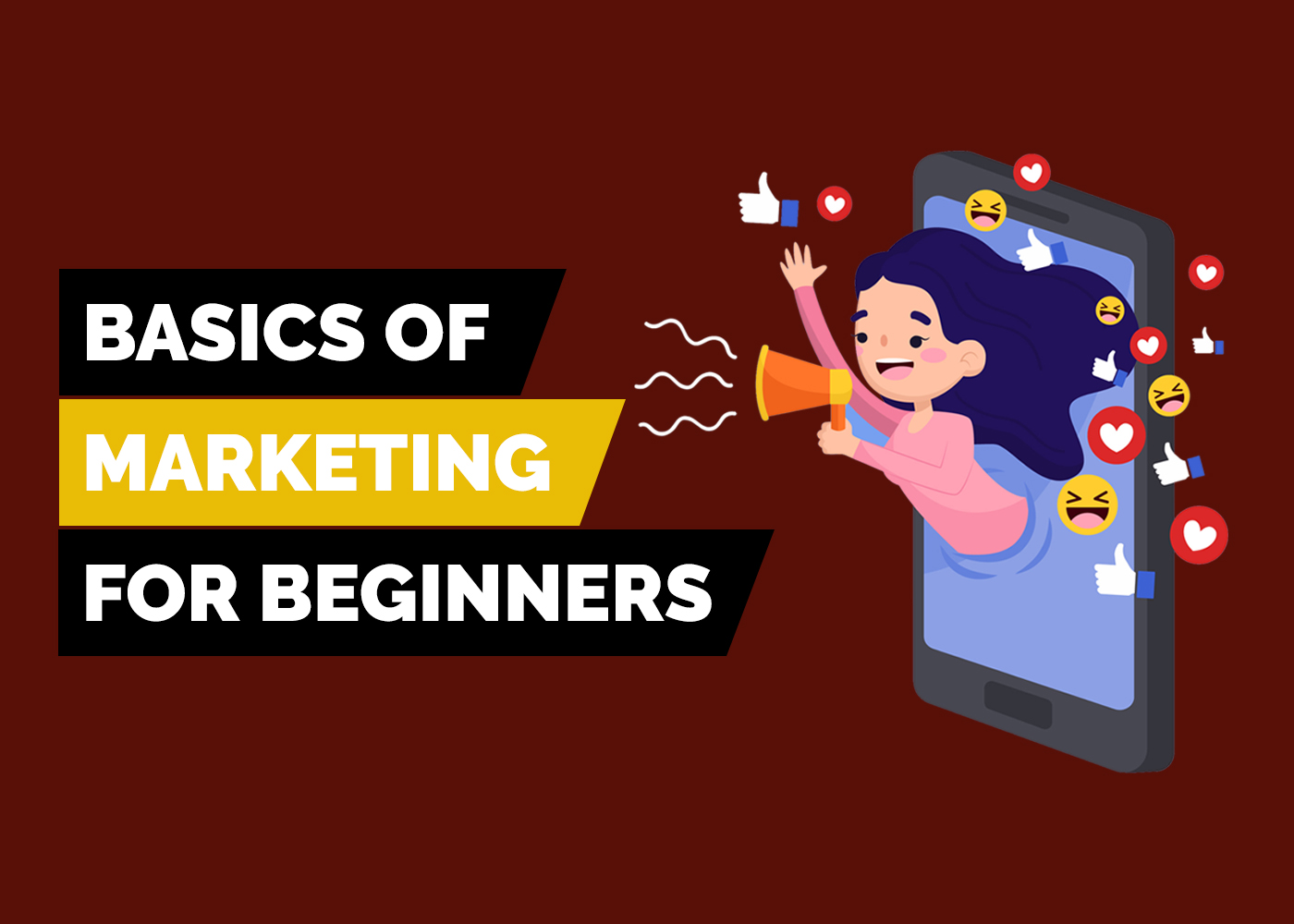 Marketing can be complicated.
Some areas of marketing can take years of dedication and constant learning. And what works today may not work tomorrow. It's tricky but not rocket science. Once you get familiar with the basics you are good to start your career as a marketer.
I got into marketing 6 years ago while I was in college studying marketing and interning as a marketer. I have led E-commerce and tech startups as the marketing strategist and now, I run my travel website, World through Erica. I started it a year ago with the idea of sharing tips and hacks on budget travelling. And the day I made my first cent, all these years of dedication and constant learning certainly paid off. There is quite a lot about marketing that I have discovered in the past years. And there still is a lot that I learn every day. So let's begin talking about the basics of online marketing.
Online Marketing Entirely Rules
Well! We all know that online and offline marketing are both important to a business. But I have always been more fascinated by online marketing for many reasons.
I can interact with my users directly through posts, emailers, comments and many more ways.
I can analyse how well my users are interacting with my activities.
Of course, I don't have to pay anything until I go for paid ads. But it's still cheaper.
And I can reach a large number of audience.
Every other company today is willing to invest more and more in online marketing and come up with unique marketing strategies to grow their business. In fact, according to a study, the Global ad spend will reach $605 billion in 2020. That's how crucial online marketing is. I will now break down online marketing into its kinds and give you a brief understanding of how it works.
Content Marketing
Content marketing has been a crucial part of my career. I believe "content marketing means building something and then getting it to your user's attention." It can be done through blogs, videos, social media posts, infographics, E-books and more. In fact, according to a research, marketers who have prioritized blogging are 13x more likely to enjoy positive ROI.
The concept is simple. People are looking out for information every day and with content marketing, you can drive their attention by giving them what they want. And it's a complete win-win. There are three simple levels you need to remember while you plan a content marketing strategy:
Share information
Engage
Take action
Suppose you have an online business of homemade desserts. You make desserts and deliver it to your consumers. As the first step of content marketing, you will build videos, blogs or posts talking about desserts in general. You can share something informational like, "Types of Desserts" or "Desserts Made by Seasonal Fruits" or "How to Make Perfect Icing for any Dessert?" Now that your audience has all the information, engage them. They are 33% ready to make a purchase. Send them mailers or links to landing pages which will talk about your desserts and keep them interested. And now it's time for action. Send them product reviews, and discount offers and that's where the customer takes an action and you get a sale. The right content strategy is all you need.
And a quick tip. Put yourself in the shoes of your reader. Read your content again and again until you reach the "Yes, I am convinced" part. That's the point when you know that you are good to go with your content.
Search Engine Optimization (SEO)
Search engine optimization is a process of increasing the quality and volume of traffic to a website through free search results on search engines. Before I start explaining further let me pick the best search engine in the world. GOOGLE. It's a huge dream of every marketer to see their website rank on the first page of Google.
Now let me explain how the search engine works. There are three words you should remember:
There are crawlers who look for content on the internet and, then the found content is indexed. Indexing is the process of storing and organising the content. And when a user types in a query in the Google search bar, the most relevant content ranks on the top. It's amazing and fair to all the content creators. The more helpful your content is, the more value you get.
Here's one example from my travel website. My blog: The Budget Homestays in GOA ranks on the third position of the first page of Google when you search "Budget homestays in Goa." And the same blog ranks on the second page when you search "Homestays in Goa." It's simple. The more you answer your users' queries the more relevant you become in the eyes of Google.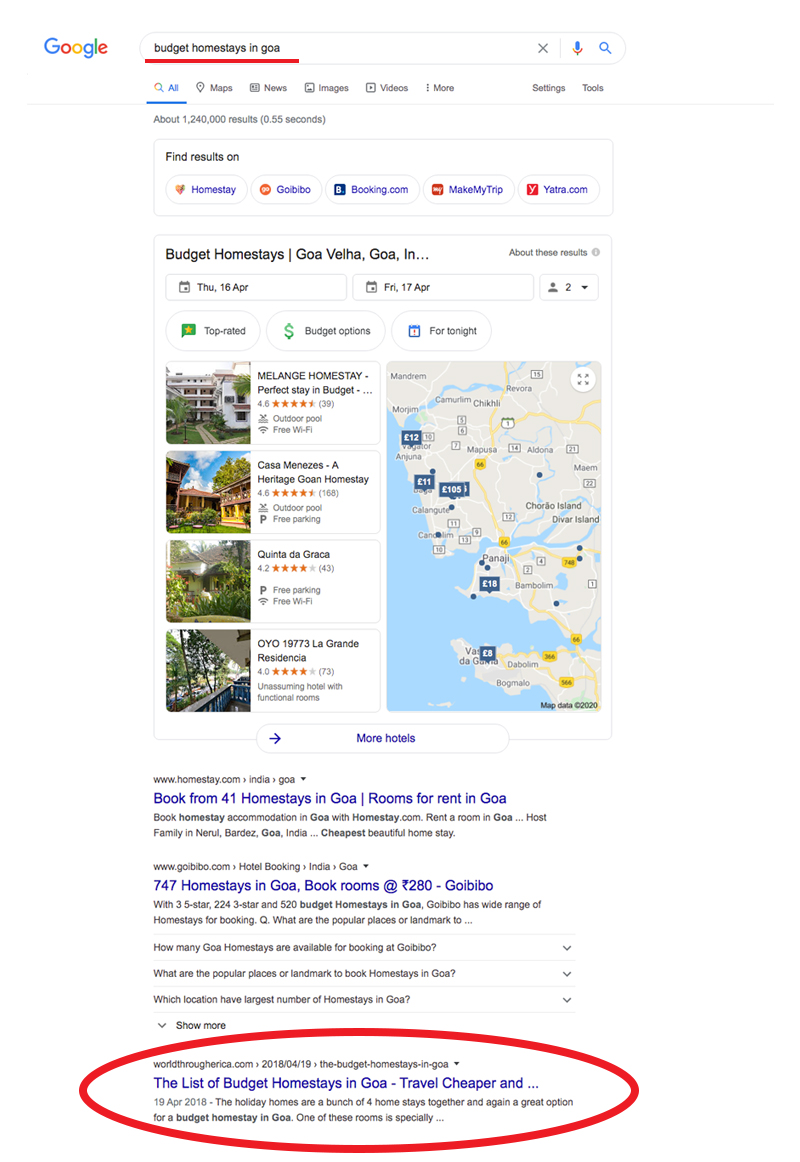 Social Media Marketing (SMM)
Social Media Marketing is a way of bringing traffic to a website through social media. There are varied social media channels where your audience spends most of their time. And therefore it's a great opportunity for marketers to reach their users on the platform where they are already hanging out.
Let me share some of the figures from a research by Hubspot on Social media platforms.
One platform is a far cry from the other, so defining the perfect channel could be your first step. Furthermore, there are many ways to interact with your audience on social media. You can either create a video, share posts or start a group. SMM also helps businesses to monitor what their users are talking about them.
Email Marketing
It's quite simple to understand by its name. Email marketing is a method of reaching your audience through emails. This type of marketing can easily get you picked or kicked. Either you will be the one who spams or you will be the one, for whom people would wait. I love email marketing for 3 reasons:
I can customize and be personal
It's cost-effective
It converts better.
Email marketing generally drives around 3,800% to 4,200% ROI. A study reveals that Email is 40 times more effective at acquiring new customers than Facebook or Twitter. Almost every email user checks his/her inbox daily and there is a perfect opportunity for your message to fall into their lives directly. A great personal and beneficial email is the key to win users.
Affiliate Marketing
How much do you like the idea of earning commission? Well! it will fascinate you big time to learn more about this type of marketing. I love affiliate marketing because I can make money while I sleep. The concept is simple, you have to promote someone else's product and you make a commission when the user purchases it.
All big companies of every niche have their affiliate program. Like, I have a travel website, so I have joined the affiliate programme of a prominent travel company named, Booking.com. I have placed hotel booking search boxes on my website. So while reading a blog on my website, when a user clicks on the booking search box and then successfully makes a transaction, I get a commission on that booking. And that's how we make profit mutually.
Influencer Marketing
From celebrities to bloggers and now to every other powerful authority, influencer marketing has come a long way. It is a type of social media marketing in which an expert influences it's followers through product mention and endorsements. For example, A travel startup could reach me to talk about their services to my followers because I already have the audience built who are interested in travel. It's simple and effective.
Networking
This is something you should do anyway. Talk to experienced marketers, try to discover their knowledge. Go for marketing meetups and conferences and participate. You can also join marketing groups on social media and openly discuss whatever you want to.
Let Me Sum Up
So, you now know the main areas of online marketing. Online marketing is vast. And the basics discussed in this blog are sufficient to help you decide, from which area should you begin. I will soon put out more blogs to explain each of these types in detail. Just a quick tip: Keep practising and analysing. Everything you read on the internet, practice it, analyse it and your results will make you a better marketer.